THE BEST WAY TO SECURE YOUR HOME
The first 802.11ah long range WiFi outdoor wireless battery camera
INDOOR / OUTDOOR SECURITY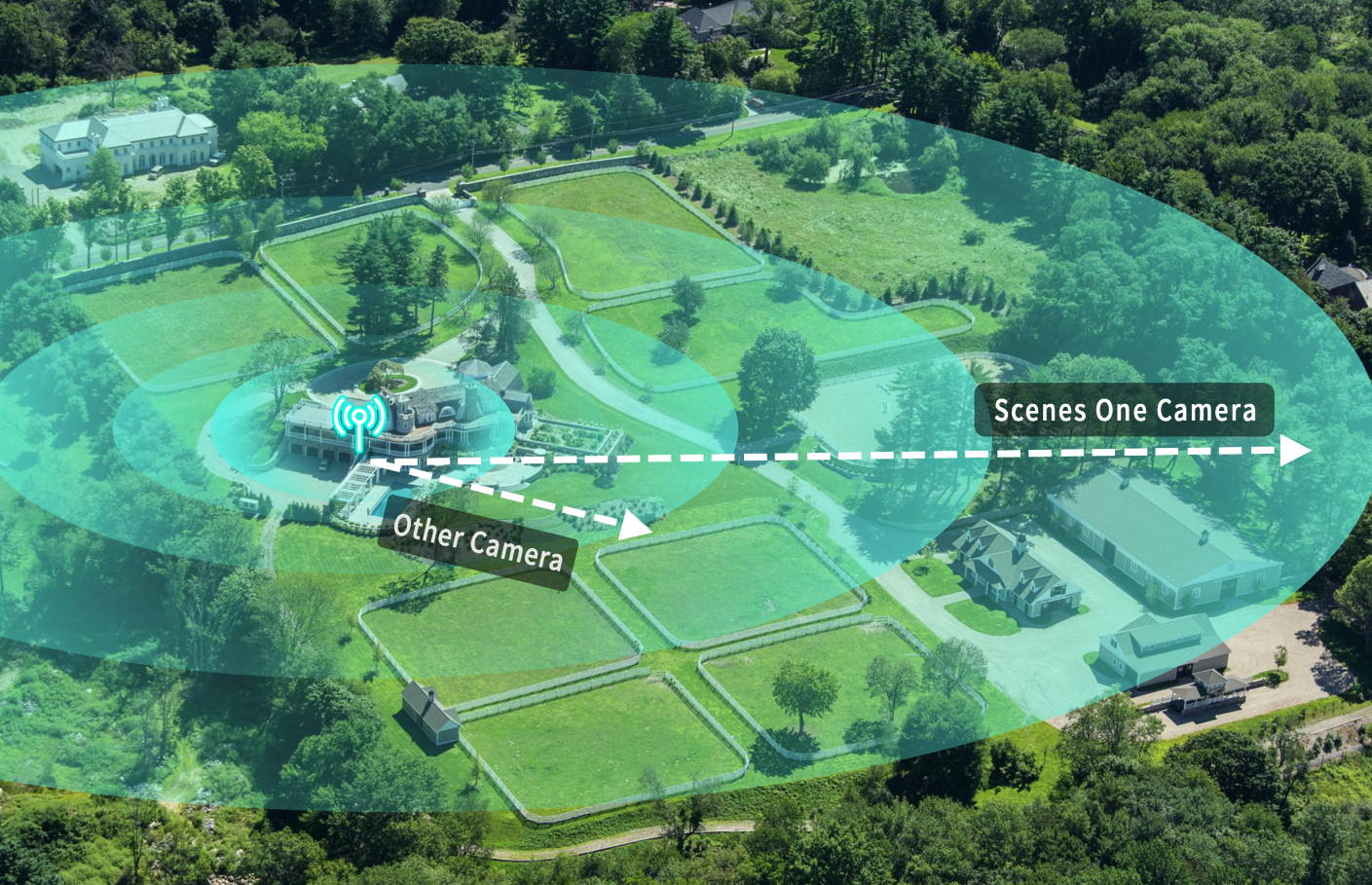 Scenes One is the first wireless security camera to use SkyLine technology, offering incredible range while using very little power. Using the new WiFi HaLow IEEE 802.11ah standard, our SkyLine technology can penetrate through walls and has a range of over 600 feet without the need for wires or WiFi repeaters.
Scenes One batteries last up to 6 months on a single charge. And with the addition of night vision to the Scenes One camera, you can confidently monitor your entire property both day and night.
The Scenes One Companion App

Our app lets you check in on your property anytime, from anywhere.
We offer secure, US-based cloud storage with 7-day rolling free storage you can access through the app, giving you the ability to rewatch any footage for up to 7 days. If you'd like to extend the storage period, we offer affordable cloud plans.
Within the app, you can also activate two-way audio, adjust your camera's motion-detection sensitivity, and set up alerts to notify you when the cameras detect activity. Additionally, you can also choose to print screen or download your footage to your phone's image album.
What our Kickstarter backers say:
"I purchased four cameras (two powered by solar) to cover our ranch in Colorado. My furthest camera for our shop is 270' away from our home and it is close to the maximum distance I'd go. The video quality is outstanding, both day and night. The motion sensitivity is high, but can be adjusted. So far, the only intruders captured on my video were a large black bear and some deer. 😀 Overall, very pleased with the system and the customer service provided by the Scenes technical staff."
Mark Fisher
"I got my cameras today, very good package and looks high quality. I purchased 3 cameras and a solar panel. will try to setup tomorrow to check how it works."
Corrine Eyman
"I purchased this product because they said that it could cover up to 5400sq. ft and had very strong penetration ability. I am a technical engineer and noticed that this is base on the new wi-fi 802.11ah protocol, so I decide to try on that, I purchased a standard 2 camera kit. After several days of testing, i found this is really much better than the 2.4Gwifi camera. The distance is incredible when I do some further testing in my home. I used it at the door of my house at first, and then I wanted to see where the camera can go as far as I can. I put one of the cameras in the courtyard of the community. The camera could go up to 300ft with the live video, consider this is the concrete wall here, I think this is very impressive.."
Bruce Thomas
Unboxing Your Scenestek Cameras