About Us
WE ARE SCENESTEK
We are the geeks of the IoT technical domain. We believe that the IoT products in your home could add greatly to your happiness. We understand that security is the most important in your home, so we are devoted to creating security cameras for residential use with a unique design. We hope we can help more people in the world protect their homes in the most efficient way.

With the lasted technology and the experience in this market, we believe Scenestek is a valuable partner for you. This mission drives our team and strategy down to each and every decision. It's the statement we live by when we design and engineer not only the products you see today but the future features and innovations that we will deliver for a long time to come. It also makes the late nights and seemingly impossible tasks more bearable as we know our hard work will create happy customers and make a positive impact on our homes, our communities, and the world.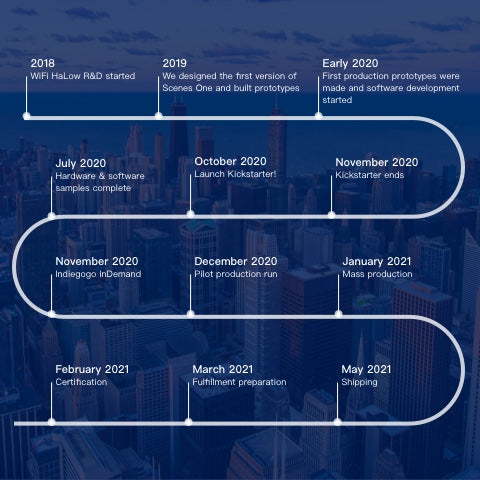 WHY DO WE DESIGN SCENES CAM?
   We heard a lot of feedback that WIFI battery cameras are so easy to use, but they can't provide strong security because of the distance and penetration limit. So, we did a lot of research into the new WI-FI 802.11ah standard that could do much better here.
   We decided to bring the new technology to more users and help them get a great camera system.
 OUR STORY
    We launched Crowdfunding in 2020Q4 and achieved over 1000 backers worldwide.
Thanks to their strong support, we are able bring this product to market and make it robust and stable. Now we also want to share this product with more users to make your property safe.